Project Objective: When an entrepreneur with a vision to conquer GCC with her new brand, Papayarosa, came to meet us – the brand was just a dream. The idea was to create a robust ecommerce website, engineered to rank in Google's search results.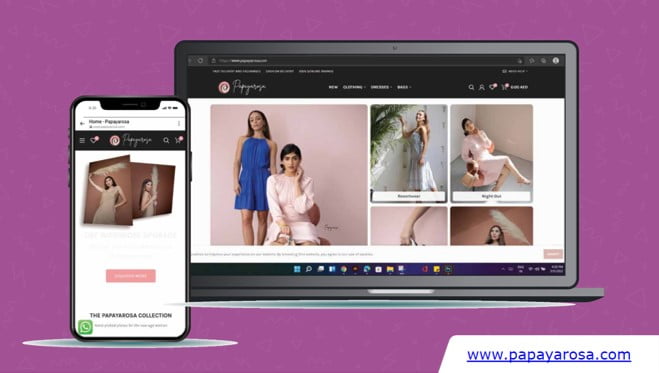 About Papayarosa – a project which was a dream once!
When an entrepreneur with a vision to conquer GCC with her new brand, Papayarosa, came to us, the brand was just a dream. The idea was to create a robust ecommerce website that would provide a great user experience and attract customers. The brand needed help by someone experienced to do this. Papayarosa is a brand made in the United Arab Emirates that offers a wide range of dresses for every occasion and setting for the modern woman. With a promise of excellent customer service, free shipping, free returns, next day delivery, and a 100% safe check out environment, the brand was poised to make a big impact in the market. To be able to achieve this it was vital that the company be able to have a website that people will find easy to shop on. They must be able to find what they are looking for fast and easily.
 Our Approach
At Medialinks, we specialize in creating websites that are not only visually appealing but also provide a seamless user experience. With this project, our goal was to create a website that would help Papayarosa stand out in a crowded market and attract new customers. The clothing market is a very competitive one that it can be overwhelming standing out here. There are many brands in the UAE that sell clothing online and it is important to stand out here.  
 Our Solution
The first step in the process was to create a design that would reflect the brand's identity and attract its target audience. For this it was important for our team to understand exactly what the company wanted. We worked closely with the Papayarosa team to understand their vision and create a design that would appeal to their target audience. The final design was modern, clean, and easy to navigate, with a focus on showcasing the brand's product range. It aimed to make it easy for people to reach the site and also shop on it for the product that they wanted. When users find this tough to do, many choose another brand that is easier to shop with.
 How we did it?
Focus on functionality & UI was the main focus for us. We built the website using the latest web technologies, ensuring that it was fast, responsive, and easy to use. Our professional team used only those resources that were fit for this task. We wanted to try and get Papayarosa to have a strong presence online and be able to reach the first page of search results. In this way they could increase their client base.  
Results
Apart from the fact we helped an entrepreneur launch her brand, Papayarosa's website was a huge success, attracting a large number of new customers and helping the brand to establish itself as a leader in the market. The brand needed to have a strong website as they were aiming to provide people with the facility of easily shopping from the comfort of their home.
At Medialinks, we are proud to have partnered with Papayarosa to create a website that truly represents their brand and helps them to attract new customers. Our portfolio has become stronger after we were able to gain experience working with them on the website that they wanted. If you're looking for a similar website for your business, we encourage you to contact us to learn more about our services and how we can help you achieve your goals. We have experience being able to design websites in this industry and know what the potential client base is looking for. We have a team of experts that specialize in creating high-quality e-commerce websites that provide a great user experience. Don't hesitate, let's start building your dream website today!
At Medialinks, we specialise in Complete Custom Development, Conceptual and Dynamic Websites, enabled with CMS and Easy Product Search. An eCommerce website is an online store where you can buy or sell products online. Medialinks offers professional online stores that helps you launch your eCommerce business quickly and successfully.
Magna voluptatum dolorem! Dolores! Sociosqu commodo nobis imperdiet lacinia? Magni! Felis, elementum nobis.